Membership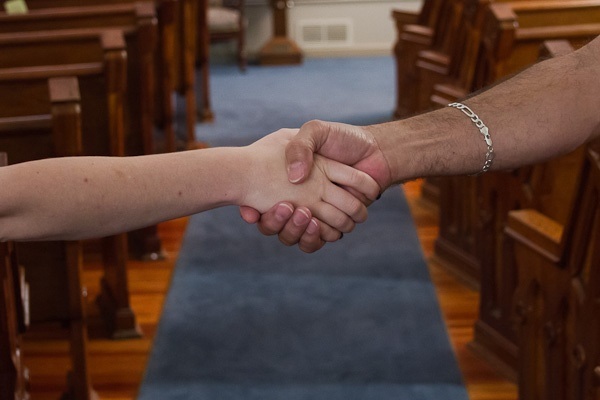 How to Join Us
At First Christian Church, as at all congregations of the Christian Church (Disciples of Christ), the only requirement for membership is a confession of faith in Jesus Christ as the Son of the Living God and acceptance of him as Lord and Savior.  Those who desire to join our faith community are invited to come forward during the Hymn of Sending Forth to make or re-affirm this declaration in front of God and the gathered community.  If coming forward during worship is intimidating to you, you may also make your confession with the Pastor and you will then be announced as a new member at the next worship service. This can serve as a transfer of membership from another church, or as the public confession that precedes baptism, which would normally be held on a later Sunday.
Baptism
At First Christian, we baptize by full immersion, but we accept all baptized Christians, regardless of method.
 The Benefits of Membership
Being a member of a congregation means a lot of things.  Because we believe the Christian journey is best traveled together, we encourage our members to attend worship regularly, to be involved with some activity that fosters personal spiritual growth, to support and participate in the ministry of the congregation, and to serve God's people in need in an active way.  We also hope that all of our members are excited enough about the Good News of Jesus Christ that they will be sharing it with others who have not yet heard.
Officially, being a member allows you the right to vote in a congregational meeting.  (We have at least one a year.)  It also makes you eligible to serve in servant-leadership capacities within the life of the congregation.  For students and others with strong ties to a "home" congregation, we offer "associate membership," which entitles you to the same rights and responsibilities as full members, but allows you to keep your membership in another church where you may be participating in spirit but not in person.